Hey guys!
Very busy day over here and not much time to post, so I decided on a quickie post for the Vegan Bitch in the Kitch section.
Whenever you want to veganize a recipe, are out of eggs, like to experiment, want to cut a recipe's costs, or, for some reason, would like to cut back on cholesterol, faux eggs are the answer! Fake eggs provide, to a certain extend, the same function as an egg in baked goods and other foods: emulsifying, thickening and binding, to name the most important. To get this effect, you need something that has the same structure as an egg (when raw): a gel. The most common egg replacers are:
Flax egg
Combine one T ground flax seeds with 3 T warm water, and set aside for 5-10 minutes until a gel has formed. Whisking with a fork with get a more gooey, egg-like consistency. For the best results, buy whole flax seeds and grind them just before usage (fyi: this is the best way to consume flax anyway, at all times!).
Chia egg
Chia seeds are nutritional powerhouses and a way to sneak them into more of your food is always welcome. The ratio is again 1:3 for Chia and warm water, only the Chia seeds don't need to be ground.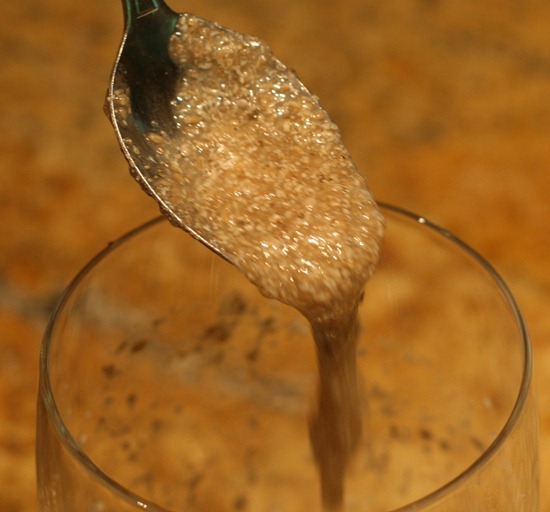 Egg replacer
There are tons of vegan egg replacers out there, but I have only found one in Holland so far: No Egg. I purchased this powder at De Tuinen a long time ago and use it in recipes sometimes when I am too lazy to make either a flax or chia egg
. Simply mix 1 t of the powder with 2 T water and you're ready to go. I think you could also use one T cornstarch to 2 T water for this.
Applesauce, bananas, (silken) tofu
Use a half mashed banana, three T applesauce or 2 T silken tofu in recipes to replace one egg. A note for these faux eggs, though, is that you have to consider taste. Applesauce and a banana will give some extra sweetness to your baked good so you might want to substract a small amount of sugar. Also, I would not use it if the original recipe is heavy on the eggs, since you might be left with muffins or cookies tasting of apple or banana
.
Other tips are always welcomed!
Love,
Sabine