Organic vs conventional, the subject has kept my brain hostage for a while now, driving me to explore and research both ends of the slippery slope. I, like many other people, have been raised on conventional foods, and have been learning about the advantages of organics only in the last few years. Maybe I have been bombarded with a little more 'organics propaganda', being a nutrition student, than others. And it's only up until very recently that I have started to question more and more what it means for myself, the other people on this planet, and the environment, to eat either organic or conventional. I have been buying both organic and conventional food and products for a long time now, and I have had had certain questions from the start (mainly: is organic farming able to feed the entire population?!). My assumption was that it probably was, and that it was healthier/better than conventional agriculture in all other aspects too, why else would there be such an emphasize on the importance of eating organic?
Now that I am further along in my studies and am able to formulate more critical questions, and do much more research on my personal behalf, my concerns and doubts have grown, and I am determined to find answers to my questions. What I would really like to know is: is organic really better than conventional?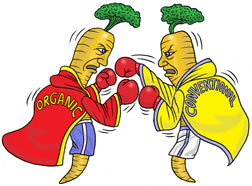 Let's start with a brief overview:
Organic
- Organic (biologisch): seal that companies only obtain by complying with a set of very strict rules, meant to ensure sustainable farming practices. The company is being checked for compliance year-round.
- Mission: providing sustainable, nutritional and safe food.
- Fertilizer: food waste, animal manure, other compounds (all waste material)
- Crop rotation: prevents pest outbreaks and soil exhaustion. Healthier, more nutrient rich soil and less need for pesticides.
- Plant-derived pesticides and herbicides. Tested 'safe'. Less cost-effective than chemical pesticides.
- Numerous studies have had different outcomes on the superior nutrient value of organic vs conventional food: some say organic is more nutritional, some conclude it's not.
- Benefits: no exhaustion of soil and non-renewable resources, less waste and pollution (sustainable production)
- (Probable) disadvantages: efficiency, higher price
Conventional
- Conventional agriculture refers to industrial farming: raising livestock and crops in an industrialized fashion. – Mission: create maximum output with minimum input (= profit).
- Fertilizer: synthetic compounds extracted from water, air and mines (probably sustainable)
- Crop rotation but far more limited. Sometimes no crop rotation at all, but artificial ways to keep soil 'going'.
- Chemical pesticides and herbicides. Tested 'safe'
- Benefits: efficient method of producing crops and protecting them from harmful influences  (cheap and plentiful food)
- (Probable) disadvantages*: inferior treatment of the soils, more waste and pollution, chemical fertilizers and pesticide
* Please note that the disadvantages for conventional agriculture will differ strongly per company.
The concern seems to be: quantity or quality? This question may seem one that is easy to answer, but the choice you make does not only affect you. If organic would be the new norm, would there be enough food to feed the world? Or is it not a matter of quantity of food, since there seems enough food to date to feed the entire planet, but a matter of politics and money, that half of the world goes hungry? If so, quality (of food, soil and environment) should have priority over quantity.
And what about nutrition? In my opinion, it makes a lot of sense that organic farmed produce would have nutritional advantage over conventional agriculture. Why? The soils are treated better, and the fertilizers are more nutritional (chemical fertilizers consist of only three chemical compounds. Imagine yourself being on a three product diet…). However big or small this nutritional advantage is, I can not tell you. For organic skeptics that jump for joy whenever they read a research study has found no nutritional advantage from organic produce, please realize the numerous variables that influence outcomes of studies like these (which crops did they test, how fresh were the crops, for what minerals/vitamins did they test (usually only one!)). This is why, to date, no conclusion has been formed on the subject. If you are concerned with getting the most nutrients for your buck, the question goes beyond organic vs conventional: local. I will address this subject soon.
In my opinion, it is also not the chemical pesticides and herbicides residues on foods that we should worry about. No doubt these chemical compounds are not healthy for a human body, but I do believe they are safe enough to consume them in infinitesimal amounts on food. I think the statement tested 'safe' should always be taken with a heap of salt, be it organic or not. My concern is, which benefits weigh out which disadvantages?
To me, these questions stand like a tall mountain before me and I am baffled and quizzed. I want to do the right thing, as much as I can, and I have been taught for so long that organic is the only ethically correct answer, but the answer long does not cover all my questions and concern. And I know I am not the only one puzzled by the subject.
I have certainly found more beneficial qualities to conventional agriculture than what I have been led to believe, but unfortunately the matter is not yet settled for me. Certain advantages and disadvantages of both practices aside, I am certainly willing to pay a higher price for organic food, as a vote for relying more on natural practices. The only concern standing in the way of total devotion to organic, for me, is not the question of sustainability for the environment, but for the people living on it. Is organic agriculture able to provide and ensure enough food?
I have formulated my opinions based on basic knowledge about both conventional and sustainable farming, and by reading the opinions and notions of critics of both methods. I plan on doing more research also including research papers and articles, but I would really appreciate any input on the subject. So please share your opinion and your knowledge with me!
Love,
Sabine